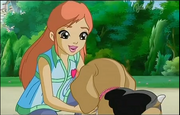 Makayla is a young girl with long red hair and dark brown eyes who has trouble keeping her eyes peeled for bullies. Pia, an observant beagle, is chosen to help her be more alert.
Ad blocker interference detected!
Wikia is a free-to-use site that makes money from advertising. We have a modified experience for viewers using ad blockers

Wikia is not accessible if you've made further modifications. Remove the custom ad blocker rule(s) and the page will load as expected.